Highest Mountains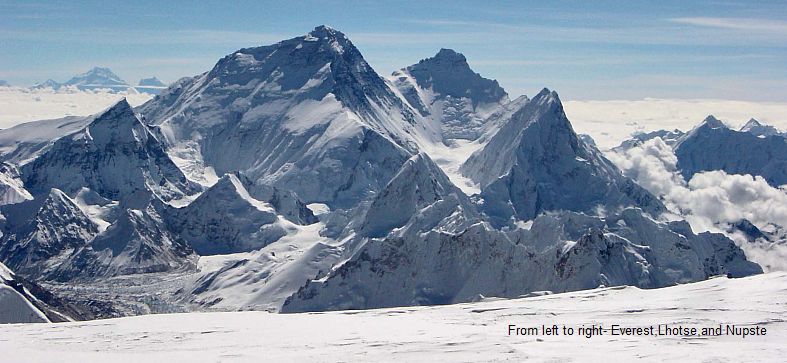 When we think of the highest mountains in the world, we usually think about elevation above sea level, and while this is primarily what we will deal with, it is noteworthy to understand that there are other ways to look at it -- like base to summit elevation, highest free-standing mountains, or the mountain peak that is closest to the moon and stars.
So let's get this straight: What is the tallest mountain in the world? OK, when measured from sea level Mount Everest(29,035 ft; 8,849 m.) is the tallest and extends farthest into the atmosphere than any other peak in the world.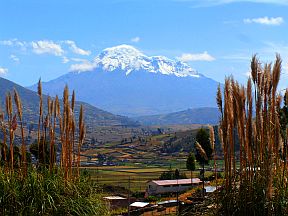 However, the mountain peak that is closest to the moon and stars, is Mount Chimborazo (20,565 ft; 6,268 m.) in Ecuador. This is because the earth, its atmosphere and oceans bulge 26.5 miles at the equator, and Chimborazo sits higher up on the bulge than Everest, making it about 1.5 miles closer to the moon.
Or another way to look at it is that Chimborazo is the farthest point from the earth's center, at 3,967.1 miles, while Everest is only 3,965.8 miles.
OK, with all of that out of the way, where was I? Oh, yeah, so the highest "free-standing" mountain in the world is Mount Kilimanjaro in Africa, at 19,341 (5,895 m.) feet above sea level (ASL). "Free-standing" means it stands alone and is not part of a mountain range. Usually these are volcanic mountains.

The tallest mountain when measured from its base is Mauna Kea in Hawaii, at over 33,000 feet (10,058 m.)-- however its base is many miles below the ocean surface, and only 13,796 feet (4,205 m.) of that is above sea level!
Although Denali (Mount McKinley [20,320 ft; 6,193 m.]) has long been considered the mountain with the highest base-to-summit vertical rise above sea level at just over 18,000 feet, or 5,486 meters, recent evidence suggest that a peak in Pakistan's Karakoram Mountains known as Rakaposhi, at 25,551 ft (7,788m) has an even greater vertical rise. On the north side it rises 19,029 ft (5,800 m.) in only 7.1 miles from its immediate base!

What about the highest mountains in the solar system? See the Extraterrestrial Mountains article. 
Also for the highest on each continent see The Seven Summits. 

Below is a list of the fourteen highest mountains in the world, as measured from sea level. Click on each one to learn more.

1. Everest - 29,035 feet (8,849 m.) 

2. K2 (Mount Godwin Austin) - 28,251 feet (8,610 m.) 

3. Kangchenjunga - 28,169 feet (8,585 m.) 

4. Lhotse - 27,940 feet (8,515 m.) 

5. Makalu - 27,838 feet (8,484 m.) 

6. Cho Oyu - 26,864 feet (8,188 m.) 

7. Dhaulagiri - 26,795 feet (8,167 m.) 

8. Manaslu - 26,781 feet (8,162 m.) 

9. Nanga Parbat - 26,660 feet (8,125 m.) 

10. Annapurna - 26,545 feet (8,090 m.) 

11. Gasherbrum 1 - 26,509 feet (8,079 m.) 

12. Broad Peak - 26,414 feet (8,050 m.) 

13. Gasherbrum 2 - 26,362 feet (8,035 m.) 

14. Shishapangma - 26,335 feet (8,026 m.)